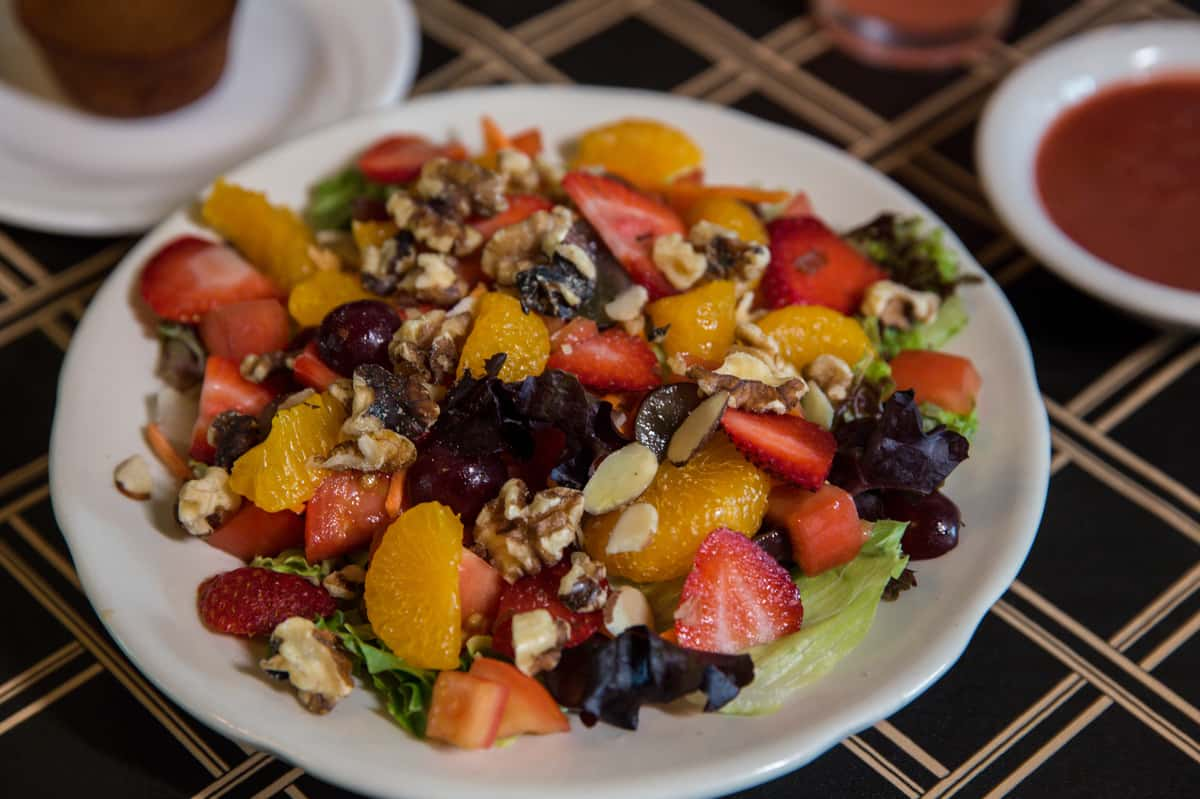 Lunch/Dinner Buffets
Become a VIP
Receive updates on special events, new menu items, menu reviews, and more!
Lunch/Dinner Buffets
STEAM ENGINE BEGINNINGS
Fresh Fruit Platter - an assortment of cantaloupe, grapes, honeydew, pineapple, oranges, and more - 1.99pp
Assorted Fresh Vegetable Tray with dip 1.89pp
Sliced Cheese & Cracker Tray - snack crackers served with several different cheeses 1.85pp
Chilled Strawberry Soup - minimum 15 people 2.99pp
Homemade Soup of the Day - order ahead for your favorite 2.29pp
Chili Con Carne Or Vegetarian Chili 2.79pp
Tossed Mixed Greens with a choice of dressings 1.59pp
Salad Bar Set up – 3 lettuces, 10 toppings and 4 dressings, (includes vegetable toppings, 2 meats, croutons, etc.) 7.29pp
Cornell University Bean Salad - developed by the NYS Bean Council just for the Depot - in a mustard lemon dressingolded Gelatin Salad garnished with fruits and nuts 1.39pp
Fresh Fruit Salad- cantaloupe, berries, melon, grapes, etc 1.89pp
Potato Salad Or German Potato Salad (both homemade) 1.59pp
Macaroni Salad 1.39pp
Our Famous Spinach Salad 1.69pp
Broccoli Salad - a specialty here at the Depot 1.89pp
Deluxe Pasta Salad - pasta shells, in an oil and vinegar dressing, topped with cheeses, pepperoni, black olives 1.79pp
Tomato & Cucumber Salad (with red onion rings in an oil and vinegar dressing - seasonal) 1.79pp
Coleslaw- with our special sauce 1.29pp
Caesar Salad - topped with parmesan cheese 1.99pp
Greek Salad - olives, feta cheese, cucumbers, onions and tomatoes in red wine vinegar 2.99pp
Tortellini Salad – with artichokes, olives, & veggies in an Italian / Caesar dressing mix 2.99pp
Traditional Antipasto Salad –Italian meats, olives, garbanzos, pepperoncinis, vegetables on lettuce with Italian dressing 4.79pp
The Main Track
- - - - - - - - PASTA - - - - - - - -
Homemade Meat Lasagna - one of our most popular items 3.49pp
Vegetarian Style Lasagna - spinach, zucchini, carrots & other veggies layered with our homemade white sauce & lots of cheese 3.49pp
Linguini Alfredo 3.29pp
Add Chicken Strips 6.29pp
Ziti in Homemade Red Sauce (Add meatballs or sausage for just .50 per person) 2.99pp
Many Pasta-bilities (Pasta Bar) - order your favorite pasta shape, sauce, meat and other toppings, you control the dish - starts at 2.99pp, full pasta bar 6.99pp
Garlic Lover's Pasta with mushrooms and vegetables in our secret garlic sauce 3.29pp
Portabella Ravioli in Alfredo 5.99pp
Ziti & Peas in Vodka Sauce 3.69
Homemade Macaroni & Cheese Casserole 4.29pp

- - - - - - - - CHICKEN & TURKEY - - - - - - - - -
Seasoned Char-Broiled Chicken Breast - a lower fat item 3.29pp
Italian Seasoned, Barbecue, or Sweet & Sour starting at 3.79pp
Florentine (Swiss, Spinach) or Marco Polo (Swiss, bacon, broccoli) 4.29pp
Chicken French (our new signature dish) 4.59pp
Chicken & Homemade Biscuits 3.99pp
Citrus Chicken with lemons, oranges & artichokes 4.99pp
Chicken Parmesan with our homemade red sauce 4.79pp
Oriental Chicken Stir Fry with vegetables over rice 4.29pp
Sliced Roasted Turkey tender, juicy - dark & white meat 4.99pp
Served with dressing, gravy, and cranberry sauce 6.99pp

- - - - - - - - -SEAFOOD - - - - - - - - -
Herb Crusted Tilapia - a mild white fish 5.59pp
Breaded Italian Haddock, flaky & delicious 4.59pp
Grilled Norwegian Salmon – finished in light butter & dill 7.29pp
Shrimp Stuffed Haddock
- cold water haddock with our homemade shrimp stuffing
7.99pp
Homemade Atlantic Crab Cakes - served with remoulade and lemon - (2 per) 9.59pp

- - - - - - - - - BEEF & PORK- - - - - - - -
Burgundy Beef Tips with egg noodles, mushrooms, & onions 4.79pp
Bacon Wrapped Tournedos – 4-ounce filet mignons char-broiled, then slowly roasted with bacon 7.29pp
Thin sliced Roast Beef in our homemade au jus 3.79pp
Prime Rib, thin sliced and in our homemade au jus 6.99pp
Stuffed Meatloaf – a new favorite at the Depot, stuffed with baked ham and Swiss cheese 5.29pp
Oriental Beef Stir Fry with vegetables over rice 4.59pp
Veal French - with our special sauce 7.99pp
Veal Parmesan - with our homemade red sauce 7.99pp
Thin Sliced Roast Pork 3.99pp
Served with dressing, gravy, and applesauce 5.99pp
Virginia Baked Ham Steaks with a pineapple/orange glaze 3.99pp
Boneless Pork Chop – boneless & either breaded or grilled 5.29pp

- - - - - - - - - LUNCH ITEMS- - - - - - - - -
Homemade Quiche- several varieties are available, or come up with your own 2.79pp
Homemade Meatball Subs – our homemade meatballs cooked in our homemade sauce, served with parmesan cheese 4.29pp
Sliced Meat & Cheese Tray served with condiments and sandwich rolls 3.99pp
Homemade Croissants- cut and stuffed with chicken, shrimp, tuna, or ham salad - or sliced turkey and ham or order an assortment - 4.99pp
Assorted Lunch Wraps - filled with a variety of combinations using chicken, ham, turkey and veggie 4.99pp
Assorted Pita Sandwiches - (vegetarian available) 4.99pp
Flat bread Sandwiches – "make your own" with chicken salad, egg salad, lemon tuna (no mayo) and roasted veggie 4.99pp
Construct Your Own Tacos - with sides of ground beef or Char broiled chicken strips, chopped cheeses, Diced tomatoes and lettuce, taco sauce, guacomole, salsa and sour cream - with flour tortilla shells 6.99pp

- - - - - - - - - BBQ & PICNIC MENU- - - - - - - - - -
BBQ Pulled Pork Or Chicken Sandwich 4.29pp
Thin Sliced Roast Beef in an au jus with rolls 3.79pp
Or add a barbecue sauce and sandwich rolls 3.99pp
Hots, Hamburgers, Chicken Breast, Ital. Sausage cooked to order over charcoal (must include a server on duty – includes sandwich rolls necessary condiments - max 3per) 6.99pp
Grilling Station Supreme – the above grilling station, plus 10 more toppings. Also, add veggie & elk burgers to your menu 9.99pp
BBQ Spare Ribs – slowly flavored over charcoal, then steamed in our homemade BBQ sauce OR smothered in our signature dry rub 6.29pp
Cornell Chicken BBQ – the traditional Upstate NY Chicken - Barbecue, this ¼ chicken is always tender, juicy and messy! 3.99pp
Bratwurst & Sauerkraut 4.59pp
NY Strip Steak & Chicken Roast – cooked to order at your site by our staff (1/2 each item) starts at 9.99pp
BBQ Nacho Bar - Pulled pork or chicken, served atop a bed of tortilla chips, you top with BBQ sauce, cheese sauce, shredded cheese, jalapenos and more! 7.59pp
Shrimp, Chicken & Steak Skewers with vegetables and grilled over charcoal (2 per person) 9.99pp
Chafers & Serving Utensils are included in our pricing. Disposable Chafers are available for $12 each
SIDE TRACKED - (Side Dishes)
Oven Roasted Potatoes seasoned & browned 1.69pp
Cheesey Mashed Potatoes - made from scratch 1.79pp
Salt Potatoes - a WNY culinary staple 1.69pp
Mashed Sweet Potatoes- flavored with brown sugar 1.99pp
Homemade Candied Yams - with marshmallows 2.19pp
Mashed Potato Bar- add chives, sour cream, bacon, broccoli, cheese, garlic seasonings, & onions 2.99pp
Sour Cream & Onion Smashed Potatoes 1.99pp
Scalloped Potatoes – homemade & delicious 1.99pp
Add chopped ham 4.29pp
Steamed Green & Yellow Beans with baby carrots 1.29pp
Steamed Broccoli Florets With Cheese 1.99pp
Fire Roasted Vegetables – a customer favorite 1.99pp
Corn On The Cob 1.39pp
Buttered Corn (off the cob) with chopped red peppers 1.29pp

Green Bean Casserole - topped with onion rings 1.59pp
Rice Pilaf - with broccoli & carrots 1.49pp
Black Bean Rice (vegan dish) 1.69pp
Wild Grain Rice (vegan dish) 1.59pp

Homemade Stuffing, made the traditional way .99pp
Homemade Baked Beans 1.19pp
RED CABOOSE ENDINGS (Desserts)
PICK UP & GO DESSERTS

Assorted Cookie Tray 1.69pp
Chocolate Brownies - chocolatey and chewy, with nuts 1.69pp
Fancy Assorted Brownies - white chocolate, cookies & cream, & more! A definite crowd pleaser 1.99pp
Cannolis - cheese filled & dusted with sugar
2.29pp
Homemade Cupcakes – yellow or chocolate, with our famous Butter cream frosting 2.29pp
Mini Dessert Tray - assorted mini desserts like cheesecakes, petit fours, mini Cannolis & brownies 2.99pp

FAMOUS DEPOT DESSERTS

Bavarian Cream Puffs - served with hot fudge on the side 3.29pp
Apple Bread Pudding with a warm caramel sauce 2.79pp
Strawberry Shortcake with baking powder biscuits 3.29pp
Lemon Bars light & tasty 2.99pp
HOMEMADE PIES & CAKES

Homemade Pies - choose your favorite 2.99pp
Peanut Butter Chocolate Chip Pie with an Oreo crust 4.29pp
Personalized Cake, choose your style, flavor, and frosting 1.99pp

Carrot Cake with cream cheese frosting 2.79pp
Strawberry JELL-O Cake 1.99pp
New York Style Cheesecake 2.99pp
Cost Calculation
To figure the cost of your buffet per person, add together the items you have chosen and add 8 % sales tax.
If you would like a server to stay at your event, please add 20% gratuity. A $150 gratuity may be added for carving & action stations. Minimum $600.00 bar total needed for all functions with bar options. Prices include all necessary condiments and service items. Specialty linens, napkins, and dishware are available for a nominal fee. We accept cash, check & money order. Credit Cards please add 2.5%. A production charge of 10% is added to groups under 20 people.
Other items may be available - discuss your requests with us.
Too busy for this menu? Try one of our pre-planned menus:
Menu #0
Deluxe Pasta Salad
Assorted Sandwiches (wraps, croissants, etc.)
Potato chips
Cannolis
Individual sodas and waters
Plasticware
Price per person - 11.35pp
Menu #1
Tossed Salad with dressings
Chicken & Homemade Biscuits
Vegetarian Lasagna
Sauteed Vegetables
Assorted Cookie Tray
Lemonade
Price per person - 12.85pp
Menu #2
Broccoli Salad
Tossed Salad with dressings
Thin sliced beef in au jus
Garlic Lovers' Pasta
"Cheesey" Mashed Potatoes
Steamed Corn
Apple Bread Pudding
Iced Tea
Price per person - 17.45 pp

Menu #3-
Antipasto Salad
Fresh Fruit Salad
Burgundy Beef Tips
Char-broiled Chicken Breast
Shells & Homemade red sauce
Mashed Potato Bar
Sauteed Vegetables
Bavarian Filled Crème puffs
Lemonade
Price per person - 26.35 pp